Fremantle Prison
A rare occasion to walk where once prisoners have been. Do you know why no cell ever was numbered "16"?
A local guide ("What's On") lists Fremantle Prison as Number 1 in the city tour - and I have to agree! Australia's history is one of convicts and the best way to experience their history is by visiting a prison.
The prison
Fremantle Prison was built from 1850 to 1860 by convicts, of course. It replaced the Round House which had become to overcrowded with prisoners. Until recently, 1991, it served as a maximum security prison and is now open to the public after 136 years of continual use as a place of imprisonment.
Although it has been stripped of all loose parts, the mood of "prison" is still there when you stroll through the hallways, cells, kitchen and chapel. The cells are numbered but the 16 is missing because within prison circles it is a messenger of death: The One stands for the executioner, the Six for the noose.
In 1988 rioting prisoners set the main block on fire. In the entrance area there's the possibility to watch a documentation that was shown on TV at the time. It really brings it back into the present when you watch it and is so impressive that you want to check if there's still smoke outside.
A hard life
Life was hard: For example, there wasn't any toilet but a bucket, which had to suffice for two prisoners and for 12 hours… Outside, in the courtyard, there was a place where the designated prisoner had to clean all buckets of his section. Some cells have been painted by their inmates showing a Rainbow Serpent in dot-style or pictures of life before imprisonment. But these are rare exceptions, generally it was forbidden to paint the walls.
Fremantle Prison. Never seen by condemned prisoners: the gallows.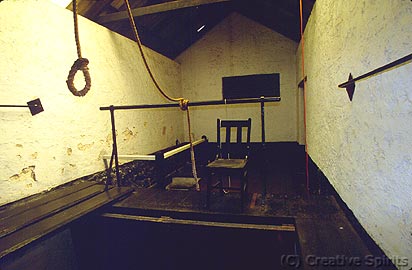 The gallows
And then there's the small room with the gallows. It was never seen by those sentenced to death because they had a hood drawn over their head before entering this room. Each hanging was done with a new rope as the executioner's calculations were based on this and the rope expanded a little after the hanging. You can still see some depressions in the large wooden beam. A strange feeling to be at a place where people died.
Visiting the prison
You can choose between self-guided and guided tours, but I definitely recommend the guided one. Although you might have less time for some stops the opportunity to ask questions and to hear some stories in response is really worthwhile. The day tour is good for photography but the Candlelight Tour (with torches actually) must be really frantic… imagine you get lost and locked in…
Fremantle Prison
Mon-Sun 10.00 am-6.00 pm, Candlelight Tours Wed+Fri 7.30 pm (bookings essential).