Musicians
Black Image Band
Origin

Bulnganwarra clan, 80 kilometres west of Cooktown, Queensland, Australia

Genre/styles

About Black

The Black Image Band was formed in 1997 and is made up of seven brothers from the Harrigan family and some cousins.

Band members: Dylan Harrigan (lead vocals, rhythm guitar), Clifford "Cliffy" Harrigan (drums), Mark Harrigan (vocals, clap sticks), Vincent "Porky" Harrigan (lead guitarist), Anselm "Pando" Harrigan (lead guitarist), Quinton Walker (bass guitar).

Website: www.facebook.com/blackimageband
Discography
Album formats explained Explain formats
Album formats
10": 10 inch vinyl records were played at 45 or 33 1/3 rounds per minute (rpm). The former could hold 9, the latter 12 minutes of music per side.
7": 7 inch records (often referred to as 45s) were played at 45 rpm or 33 1/3 rpm, with about 4:30 or 6 minutes of music per side.
LP: Long play, is a vinyl record played at ​33 1⁄3 rpm with a 12 or 10-inch diameter.
EP: Extended play, are vinyl records that allowed two or even three songs on each side.
Durbbil Dikarrba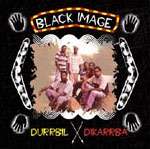 Released

2002

Tracks

Luva Luva
Colour of Your Skin
Everywhere
My Grandfather
Reconciliation
Come 'n' Dance
Wujal
Our Home
Memory on the Wall
Rockin the Blues

Notes

Durrbil means red soil in Guugu Yimithirr from their mother's side, and Dikarrba refers to the Thompson Creek area of Wujal Wujal in the Kuku Yalangi language from their father's side.
---
Beautiful Land and Sea
Released

16 February 2008

Tracks

Beautiful Land and Sea
Mullet Hunting
Just Playing Possum
Ngawiya Hunting (Sea Turtle Hunting)
Seisia Wharf
Fool Again
This Land
Enjoy the Night
Singing the Blues
Hopevale
---
Too Deadly
Released

28 December 2012

Tracks

Cape York
Feeling Alright
Mind Games
Country Vibe
Quiet Achiever
I Had a Dream Last Night (with Troy Cassar-Daley)
Sober Shut
The Deadly Brothers And Sisters
Merlot Hit (Black Fender Instrumental)
Little Man
---
Find Black Image Band albums & CDs
Disclosure: I get commissions for purchases made through any album links.
Go exploring!
Use the Aboriginal music timeline to view albums over time.