Origin

Mutti Mutti people, Balranald, New South Wales, Australia

Genre/styles

About Kutcha

For many years Kutcha Edwards was lead singer in Blackfire, a soft-rock/reggae, community fund raising band that toured internationally. He has since formed the Kutcha Edwards Band.

Website: www.kutcha-edwards.com
Discography
Album formats explained Explain formats
Album formats
10": 10 inch vinyl records were played at 45 or 33 1/3 rounds per minute (rpm). The former could hold 9, the latter 12 minutes of music per side.
7": 7 inch records (often referred to as 45s) were played at 45 rpm or 33 1/3 rpm, with about 4:30 or 6 minutes of music per side.
LP: Long play, is a vinyl record played at ​33 1⁄3 rpm with a 12 or 10-inch diameter.
EP: Extended play, are vinyl records that allowed two or even three songs on each side.
Cooinda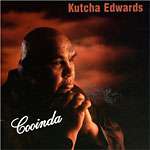 Released

2002

Tracks

Mum's Song
Always
Don't Wait For Tomorrow
I Have a Dream
Mother & Child Reunion
Day You Were Born
Yesterday's Forgotten
Stay With Me
Friends
She
Bless It Be
Walk in My Shoes
---
Hope
Released

2007

Tracks

Stand strong
Is this what we deserve
Hope
Baby baby
The letter
Time is all I have
Tired eyes
Silence
Side by side
Eternity
Photographs
---
Blak & Blu
Released

19 October 2012

Tracks

Blind Joe's Creek
Roll With the Rhythm
Get Back Up Again
Lil Bit of Lovin'
Wait'n
Coming Home To You
Scars
A Change Is Going To Come
I Thank You
Bidgee Blu's
Gotta Let You Go
---
Find Kutcha Edwards albums & CDs
Disclosure: I get commissions for purchases made through any album links.
Go exploring!
Use the Aboriginal music timeline to view albums over time.