Origin

Redfern, NSW, Australia

Genre/styles

About Stiff

Stiff Gins are Nardi Simpson and Kaleena Briggs. They started Stiff Gins in 1999. Kaleena is from the Wiradjuri and Yorta Yorta people, southern NSW and northern Victoria people, Nardi is from the Yuwaalaraay people with roots in Sydney's inner west and country NSW. Both are also members of Freshwater.

Website: www.facebook.com/stiffgins/


Stiff Gins Nardi Simpson (left) and Kaleena Briggs. Photo: Stiff Gins.
Discography
Album formats explained Explain formats
Album formats
10": 10 inch vinyl records were played at 45 or 33 1/3 rounds per minute (rpm). The former could hold 9, the latter 12 minutes of music per side.
7": 7 inch records (often referred to as 45s) were played at 45 rpm or 33 1/3 rpm, with about 4:30 or 6 minutes of music per side.
LP: Long play, is a vinyl record played at ​33 1⁄3 rpm with a 12 or 10-inch diameter.
EP: Extended play, are vinyl records that allowed two or even three songs on each side.
Soh Fa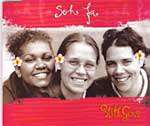 Released

5 April 1999

Tracks

Not What You Think
Theo's Song
Only Heaven Knows
Looking Forward

Notes

Soh Fa was features songs written in the first year of the band's life and was used both as a demo and an early product to sell at local gigs. At this time Emma Donovan was still part of Stiff Gins.
---
Origins
Released

2001

Tracks

All Began
Fallin' In
Knockin' (I Don't Care)
Weekend
Someday
Theo's Song
Only Heaven Knows
Morning Star
Smarten Up
Tell Me
Close Your Eyes
Whispering

Notes

Origin is Stiff Gins' first studio album.
---
Morning Star (7")
Released

March 2001

Tracks

Morning Star
Morning Star (Planetary Mix)
Morning Star (Acoustic Mix)
Morning Star (Ambient Mix)
---
Kingia Australis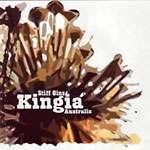 Released

6 January 2004

Tracks

Soar
In Paradise
One of the Millions
Legacy
Paranoid
Absent Friends
Spinning
Fade and Unwind
Drivin'
Facing the World
I Am Stretched On Your Grave (Live Version)
Untitled
Hear Now

Notes

Kingia Australis is the botanic name of the Western Australian Grass Tree, known as 'black gin' that is the first plant to flower after a bush fire.
---
Diamonds On The Water (7")
Released

15 October 2010

Tracks

Diamonds On The Water
---
Wind And Water
Released

18 March 2011

Tracks

Yandool
Fleetingly
Diamonds on the Water
Go Go
Going Home
Belong
Perfect Moment
The Shift
Beacon
Round the Lake
River Song

Notes

"Wind & Water knew what it was long before we did." — Nardi Simpson
---
Find Stiff Gins albums & CDs
Disclosure: I get commissions for purchases made through any album links.
Go exploring!
Use the Aboriginal music timeline to view albums over time.