Origin

Darwin, Northern Territory

Genre/styles

About Thaylia

Singer/songwriter Thaylia (Thay-lee-a) is of Aboriginal and Greek heritage. Her Aboriginal mother originates from the Murri Tribe from far North Queensland and her Father from the Greek island of Kalymnos.

Thaylia has performed at some of Australia's finest venues including Sydney Opera House, Sydney Conservatorium of Music and Happy Yess in Darwin. Thaylia was born in Darwin and raised in WA. She spent her childhood years in Kununurra, in the far north Kimberley of Western Australia, before moving to Perth when she was 12.

Growing up she never had any music lessons, and it wasn't until the age of 23 when she discovered her passion of music and picked up an instrument for the very first time.
Discography
Album formats explained Explain formats
Album formats
10": 10 inch vinyl records were played at 45 or 33 1/3 rounds per minute (rpm). The former could hold 9, the latter 12 minutes of music per side.
7": 7 inch records (often referred to as 45s) were played at 45 rpm or 33 1/3 rpm, with about 4:30 or 6 minutes of music per side.
LP: Long play, is a vinyl record played at ​33 1⁄3 rpm with a 12 or 10-inch diameter.
EP: Extended play, are vinyl records that allowed two or even three songs on each side.
Hope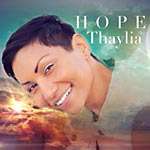 Released

22 November 2013

Tracks

Hope
---
Love (Single)
Released

20 August 2014

Tracks

Love
---
Find Thaylia albums & CDs
Disclosure: I get commissions for purchases made through any album links.
Go exploring!
Use the Aboriginal music timeline to view albums over time.