Musicians
Warren H. Williams
Origin

Genre/styles

About Warren

Warren H Williams is now one of the biggest indigenous names on the Australian music scene.

— Australian Broadcasting Company
Discography
Album formats explained Explain formats
Album formats
10": 10 inch vinyl records were played at 45 or 33 1/3 rounds per minute (rpm). The former could hold 9, the latter 12 minutes of music per side.
7": 7 inch records (often referred to as 45s) were played at 45 rpm or 33 1/3 rpm, with about 4:30 or 6 minutes of music per side.
LP: Long play, is a vinyl record played at ​33 1⁄3 rpm with a 12 or 10-inch diameter.
EP: Extended play, are vinyl records that allowed two or even three songs on each side.
Country Friends and Me
Released

1998

Tracks

Raining On The Rock
Magazine
Western Wind
Window Up Above
To A Fool Like Me
Wished Upon A Star
Baby Blue
Last Seen In Alice
Big Red Rock
A Place
A Town Like Alice
Don't Play On The Track
Someone Like You
We're Here To Love
Down That Road
If Tomorrow Never Comes
Mother Never Warned Me
Coster Country
---
Places In-Between
Released

2002

Tracks

Hustle Bustle
Big Old Moon
Northern Wind
Sunburnt Country
Let It Rain
Just Because It Feels Good
What a Place
Free People
He Don't Love Her
Weary Heart
Seven Year Itch
Desert Sky
Northern Road
Cartoon Tune
---
Where My Heart Is
Released

12 October 2004

Tracks

Clouds Are Rollin
What A Night ( This Would Be)
Lonely Bar
Lovin Arms
In The Park
Old Place
Dreamtime Baby
Like A Gambler
Called You Up
Too Good To Be True
Untitled
---
Be Like Home
Released

7 March 2006

Tracks

So Much Trouble
Highway Song
Learn My Song
Kimberley Queen
Be Like Home
Late Train
Don't Ignore My Love
Storyteller
Marlo
Milky Way
Only Eighteen
Mum, Mums
Diamonds
---
Looking Out
Released

7 August 2009

Tracks

Been Away
Drift Away
Boulevard
Dusty Ballerina
Family
Forever In My Arms
Tell Her You Love Her
Great Southern Land
Looking Out
Turn Your Radio On
She's My Everything
You Are The Place
Jealous
---
Urna Marra
Released

25 November 2011

Tracks

Motor Running
Have A Great Life
These Eyes
Just Called
This Road
Had A Love
Getting Over You
Look Up Your Memories
Someone's Always Worse
Mend Another Broken Heart
Sleepless Nights
Stories
Story Of Joseph (Western Aranda)

Notes

Urna Marra means 'good country'. Warren H. Williams dedicated this album to his father, Kasper Gus Ntjalka Williams OAM.
---
Winanjjara: The Song Peoples Sessions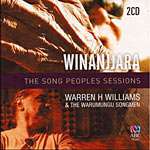 Released

13 April 2012

Tracks

CD/side 1

Winanjjara (Songman)
Kirnawarinyi Kaarnungu (Lonely Boy)
Ntarntarai! (Look After!)
Jurnkurakurr
Warumungu Kirriji (Warumungu Woman)
Ilanga (Far Away)
Kampaju Kari Winanjjiki (Gospel Song)
Mananta (Searching)
Wurtai! (Hello!)
Turtu Kayakaya (Warumungu Lullaby)
Kujjarra Kunjuku, Tjaiya Tharra (Two Ways)
Pirttangu 1 (Flying Fox)
Pirttangu 2 (Flying Fox)

CD/side 2

Kunapa Mantikarr 1 (DogBlack Carpet Snake)
Kunapa Mantikarr 2 (DogBlack Carpet Snake)
Kunapa Mantikarr 3 (DogBlack Carpet Snake)
Kunapa Mantikarr 4 (DogBlack Carpet Snake)
Kunapa Mantikarr 5 (DogBlack Carpet Snake)
Kunapa Mantikarr 6 (DogBlack Carpet Snake)
Kunapa Mangkurru (DogBlack Soil Country)
Kunapa Mangkurru (DogBlack Soil Country)
Kunapa Wupungarri (DogBloodwood Tree)
Kunapa (Dog)
KunapaKarlapirra (DogRiver-Red Gum Tree)
KunapaNgulya (DogSoakage)
Kurtinja 1 (Bush Turkey)
Kurtinja 2 (Bush turkey)
Kurtinja 3 (Bush turkey)
Kurtinja Manaji (Bush Turkey, Bush Potato)
Kurtinja (Bush Turkey)

Notes

"I always thought that to be successful in the Australian music industry I had to sing in the white man's language. I've done that now, but these songs are for my people, my family and for me." —Warren H Williams
---
Find Warren H. Williams albums & CDs
Disclosure: I get commissions for purchases made through any album links.
Go exploring!
Use the Aboriginal music timeline to view albums over time.