Arts
Blackface & minstrel shows
White actors mimed Aboriginal characters by wearing blackface, a practice considered normal until the mid-1950s. Today more and more Aboriginal people play black characters, but blackface continues to be used occasionally, sparking debates about whether it is racist.
Close this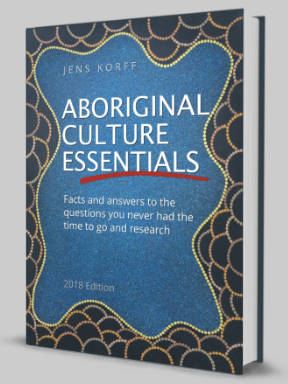 Wishing you knew more about Aboriginal culture?
Search no more.
Get key foundational knowledge about Aboriginal culture in a fun and engaging way.
This is no ordinary resource: It includes a fictional story, quizzes, crosswords and even a treasure hunt.
Stop feeling bad about not knowing. Make it fun to know better.
What is "blackface"?
When Australia's settlers started to have time for cultural leisure some of their plays also included Aboriginal characters. But who would take on these roles? Surely not Aboriginal people—they were hunted and thought to die out soon.
Definition:

Blackface

Traditionally, blackface was a practice where Aboriginal characters were played by white people with their faces painted black. Today the name is used for any non-Aboriginal person trying to depict an Aboriginal person using the same technique.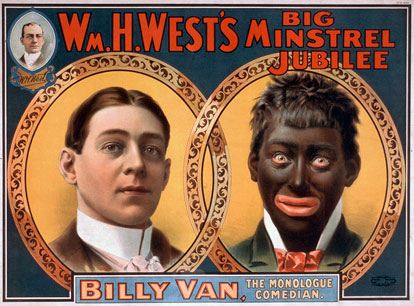 Blackface origins
Blackface started in the 1820s in America when white men blackened their faces with burnt cork [2], "playing Indian", imitating African American people's dance, song and talk.
It was based on centuries of racism towards people of African and Caribbean descent [3], perpetuating common stereotypes. "You are pretending to be a race that you are not, and are drawing upon stereotypes to do so," says Dr Adrienne Keene of US website Native Appropriations [4].
Dozens of "Nigger Minstrel" companies made the practice popular in entertainment from the 1870s to the 1890s [2]. The violin, banjo and bones became staples of these performances.
Black-faced characters were almost always portrayed in a humiliating and degrading way, and as addicted to alcohol which "probably did much to fix this false image in the minds of white people in many lands" [2]. Indeed, few know that Aboriginal alcohol consumption is generally less than that of white people.
Blackface has been a faux pas for a long time now, you just don't do it.

— Kimberley Moulton, Curator and Project Officer, Birrarung Gallery, Bunjilaka Aboriginal Cultural Centre, Museum Victoria [4]
The earliest blackface appearance in Australia is probably in Henry Melville's Bushrangers (1834), what is commonly regarded as the first play written and produced in Australia [3]. An Aboriginal character called 'Native' makes an appearance played by a white man in blackface.

Jirra Lulla Harvey, Victorian correspondent for the national Aboriginal newspaper, The Koori Mail, explains that "in Australian minstrelsy Aboriginal characters were redefined according to this global typecasting."
"No longer were they Yorta Yorta or Wathaurung, they became simple characterisations of the Black Other. When relegated to this position, Aboriginal characters (and the people they supposedly depict) become laden with cultural stereotypes from across the ages and the seas." [5]
The popular bush melodrama Trooper O'Brien had white actors in black face who played Aboriginal people as one of the bad things that could happen to a white woman in the exotic bush.
[Blackface] is a hurtful and degrading history that denied our right to self-representation and helped to create the racial stereotypes that plague our nation today.

— Jirra Lulla Harvey, Aboriginal newspaper reader [3]
Aboriginal actors replace blackfaced actors

By the mid-1950s the "blackfaced coon-singers" started to disappear in Australia [6]. In the mid-1960s the Sydney Morning Herald newspaper noted a "growing trend" of black people playing black—and white— people's roles [7].
Jedda was Australia's first film in which Aboriginal characters were played by Aboriginal actors. However, the 'half-caste' character Joe was played by a white actor in blackface [3].
Towards the end of the 1960s America had banned the impersonation of black people through blackface "because of racial feelings" [8], which made a visiting Australian theatre troupe substitute the make-up with eye masks [8].
Contemporary blackface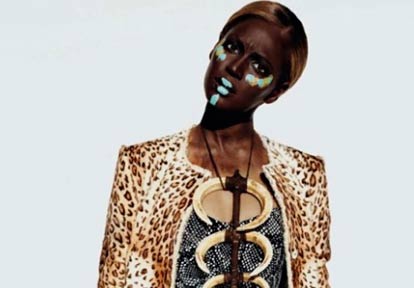 Despite greater awareness blackface still appears. Canada's Prime Minister Justin Trudeau, Magazine Elle UK, music group No Doubt, retailer Victoria's Secret, perfume manufacturer Chanel and model Heidi Klum have all been burnt by blackface. [4][9]Aboriginal artist Bindi Cole used it in one of her photographic works to alert viewers to the practice (see Aboriginal identity).
In 2009 Australia's Nine Network's Hey Hey, It's Saturday show sparked a worldwide outcry for depicting five men in blackface performing a Jackson Five number. [10]
British songstress-rapper Estelle recorded a video for her 2010 single Freak from her album All of Me which contains segments showing her wearing black makeup on her face and body, which had the director explain that is was just "fun". [11]
In her photo shoot with French magazine L'Offciel Paris in early 2011 Beyoncé appeared in blackface as part of "paying homage to the African queens through the ages" and a reference to "her African roots" [12]. The photos caused a lot of discussion, with viewpoints ranging from applause to a beautiful photo to condemnation for referring to blackface.
In August 2011, two fans of Fijian-born Australian Rules football player Radike Samo wore blackface as an expression of support, but it backfired and caused a stir among Aboriginal people and the club's major sponsor to apologise. [10]
Further contemporary examples include programmes like Little Britain and Angry Boys.
Many other examples show that using blackface invites criticism, discussions about racism and might hurt the feelings of people who are subject to discrimination or racist taunts.
Blackface is racist and demeaning. It is a tool used to strip the humanity from blacks. Easier to rape, terrorise and brutalise cartoon clowns than real live people.

— Sam Watson, Aboriginal activist [10]
There is a history of Blackface in Australia. It is a hurtful and degrading history that denied our right to self representation and helped to create the racial stereotypes that plague our nation today.

— Jirra Lulla Harvey, Aboriginal journalist [5]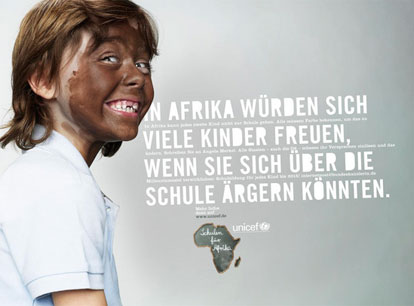 More resources
Podcast
The ABC's It's Not A Race podcast series has an episode on blackface called Hey hey it's time to talk about blackface! which discusses the topic (23 mins podcast).
Video
Nate, a YouTube vlogger from Illinois, queries if all blackface should be considered racist, or if there might be some exceptions.