Movies
Back Seat (Backseat)
Synopsis
Back Seat is a film inspired by Pauline Whyman's own life experiences. It tells the story of 12-year-old Janine, a young Aboriginal girl which her foster parents take for the first visit to her biological family.
Janine discovers that she has 8 siblings who all live with her mother. She is at a loss and cannot really comprehend what is going on. While her foster parents exaggerate her school performance her siblings can't work out how to integrate her. Overwhelmed Janine escapes to the back seat of her foster parent's car and locks it.
Director Pauline Whyman says about her film: "Inspired by true events, Back Seat is set in the late 70s. It's not so much a coming of age film, but I think 12-year-old Janine finds strength in herself during the film.
"Especially when Brittany comes to the car window to tell Janine about the family photo - she crosses back to the house and encourages Janine to follow. In that moment Janine knows she can face the world.
"I felt compelled to tell this story because it plays witness to the quiet determination, courage and strength of Janine. I hope the audience is left with lots of questions to create a dialogue with each other and to never take for granted that life and family are very fragile things." [1]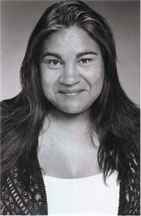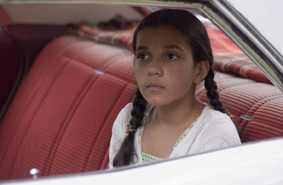 Details
Cast

Zoe Carides - Beverly (foster mother)
Lille Madden - Janine (girl)
Lily Shearer - Elsie (biological mother)
Richard Sydenham - Barry (foster father)
Aletha Penrith - Gail (sibling)
Jyda Bayles - Vanessa (sibling)
Brayden Pittman - DJ (sibling)
Blake Pittman - Rob (sibling)
Raier Blakeney - Brittany (sibling)

Release dates

May 5, 2007 - Australia (World premiere on the Message Sticks Indigenous Film Festival)

Video/DVD release date

2007, Bit of Black Business

Rating

PG - Parental guidance

Distributor

Flickerfest

Soundtrack

David Page

Notes

Back Seat's end credits dedicate the film to "all the stolen children who never made it home".

Pauline Whyman, a Yorta Yorta woman, taught herself to read and write from cereal packages.

Pauline Whyman is also an actress and a writer (play: That's a Good Question, 2004).
Watch now or find a DVD/BlueRay copy
Browse a list of Aboriginal film suppliers and distributors