Movies
Bran Nue Dae (Brand new day)
Synopsis
Bran Nue Dae is a coming-of-age musical comedy that celebrates family, forgiveness and aboriginal reconciliation.
It's the Summer of 1965 and teenage Aboriginal boy Willie is filled with the life of the idyllic old pearling port Broome in tropical northwest Australia - fishing, hanging out with his mates, and when he can, his girl Rosie.
But his mother Theresa has great hopes for him and she returns him to the religious mission for further schooling. After being punished by Father Benedictus for an act of youthful rebellion, Willie runs away from the mission.
Down on his luck he meets the drunk wily old Uncle Tadpole, and together they con a couple of hippies, Annie and Slippery into taking them on the 3,000 km journey through spectacular landscape back to Broome.
Back in Broome, Willie wins the girl he loves with all his heart, convinces his mother that Broome is the place he should be, and discovers that the father he never knew he had is his journeyman companion all along - Uncle Tadpole.

This story is just so full of life and celebration and joy, the things that aren't shown enough about Aboriginal experience.

— Rachel Perkins, director
While Bran Nue Dae flirts with some substantial issues to do with Indigenous Australia, it never takes itself too seriously.

— Sun Herald
Trailer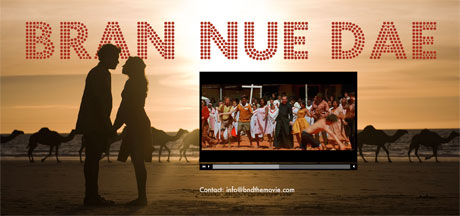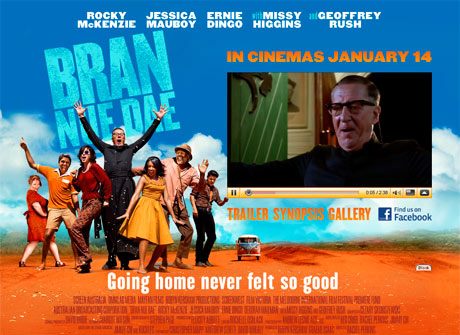 Details
Cast

Phillip Rocky McKenzie* - young boy Willie
Jessica Mauboy* - young girl Rosie
Ernie Dingo* - Uncle Tadpole
Missy Higgins - Annie
Geoffrey Rush - Father Benedictus
Deborah Mailman* - Roxanne
Tom Budge - Slippery
Magda Szubanski - Roadhouse Betty
Ningali Lawford-Wolf* - Theresa, Willie's mother
Stephen Baamba Albert* - Pastor Flakkon
Dan Sultan* - Lester
* Aboriginal actor

Release dates

8 December 2009 - Premiere in Broome, Northern Territory
14 January 2010 - Australia
16 February 2010 - soundtrack CD

Video/DVD release date

20 May 2010 - DVD/Blue-ray

Rating

PG - Parental guidance

Soundtrack

Cast with Jimmy Chi and the members of the band Kuckles – Patrick Duttoo Bin Amat, Garry Gower, Michael Manolis

Notes

Bran Nue Dae is based on Australia's first Aboriginal musical of the same name in 1990, written by Broome legend Jimmy Chi. It was praised for Chi's rock n'roll-cum-religious songs and the lyrical music of Broome band Kuckles. The stage show premiered at the Festival of Perth in 1990 and was an instant hit.


Ernie Dingo plays the same role he played in the musical.

Bran Nue Dae made a $7.6 million box-office take, making it the second-highest grossing Australian film of 2010.

Bran Nue Dae was shot in and around Broome and the Kimberley region in north-eastern Western Australia, notably Djaridjun (Lombadina).

Filming started on 3 November 2008.

Choreographed by Bangarra Dance Theatre's director Stephen Page (who also auditioned for the part of Willie but missed out because his singing was too bad).


Lyrics from the musical Bran Nue Dae:

"Government give us pension cheques
Steal it all with income tax
No jobs for us but they all say
'Government give us bran nue dae.'"

One of the most complicated jobs in the film was to coordinate a traditional dance from a number of tribal groups around the Broome area, which included obtaining agreement with elders on the groups dancing together, the style of body paint used and even where the ochre for that body paint came from.
Watch now or find a DVD/BlueRay copy
Disclosure: I might get commissions for purchases made through some of the links.
Browse a list of Aboriginal film suppliers and distributors
Other films by Rachel Perkins