Synopsis
Another film which is based on a true story. Sharpeye tells how 11-year-old Whalen spots a dinghy of the Special Forces which is part of an exercise. They plan a surprise attack on a community but are outdone by the whole community springing into action.
The film is a tribute to all Indigenous peoples serving in the world wars.

In far north Queensland you may as well be on Mars because you're so far away.

— Aaron Fa'aoso, director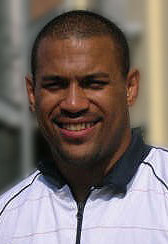 Director Aaron Fa'Aoso about his film: "In the early nineties an Army exercise took place in the Northern Peninsula communities of Bamaga and Seisia, between the local Torres Strait/Aboriginal 'Charlie Company' reservists and the SAS.
"The local community became involved as well, helping to monitor any strange activities or individuals. With the use of traditional language, the local radio station and help from all five communities, the Charlie Company boys were able to beat the world's elite soldiers at their own game.
"This film is a great tribute to the fighting spirit of the people of Torres Strait and Aboriginal Australia. It's a good little story to tell of what goes on in the northern parts of Australia, in particular the Torres Strait Islands." [1]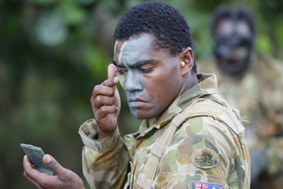 Details
Cast

Ikaika Fa'aoso - Whalen ("Sharpeye")
Robert Poi Poi - Uncle Robert
Dane Wasiu - Ryan
Peni Nadredre - Gastin

Release dates

May 5, 2007 - Australia (World premiere on the Message Sticks Indigenous Film Festival)

Video/DVD release date

2007, Bit of Black Business

Rating

PG - Parental guidance

Distributor

Flickerfest

Notes

Sharpeye is set in the Torres Strait Islands.

Aaron Fa'Aoso grew up in the Torres Strait Islander communities of Seisia and Bamaga, at the tip of Cape York.

Aaron Fa'Aoso made his acting debut in the RAN (Remote Area Nurse) mini-series for which he was nominated for the Graham Kennedy award for most outstanding new talent. The former health worker and ex-footballer was born and raised in the tropical city of Cairns by his mother, a career public servant.
Watch now or find a DVD/BlueRay copy
Browse a list of Aboriginal film suppliers and distributors