Synopsis
Ben comes home late one evening. He finds his wife acting as if he wasn't there and his son being more interested in watching TV. Nothing Ben tries to catch his wife's attention is successful.
It is not before he watches her have dinner with his son that suddenly in a moment of shocking discovery he realises that his efforts to win her back and be a better man are too late - he had died in a car accident.
Director Michael Longbottom writes about his film: "Too Late is a fictional story but a chilling reminder of the impact of peer pressure and the importance of family commitments for young men.
"When I was writing this film I felt the need to reach out to our younger generation living amongst the pressures of today's constantly evolving society, where peer pressure can often override family commitments.
This film deals with a wide range of emotions that hopefully will evoke discussion making people think and reassess their own lives and commitments." [1]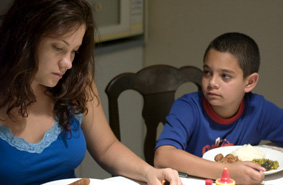 Details
Cast

Aaron Pedersen - Ben (husband)
Jake Phillips - BJ (son)
Ngaire Pigram - Gemma (wife)

Release dates

May 5, 2007 - Australia (World premiere on the Message Sticks Indigenous Film Festival)

Video/DVD release date

2007, Bit of Black Business

Rating

PG - Parental guidance

Distributor

Flickerfest

Soundtrack

David Page

Notes

Too Late was filmed on location in Sydney.
Watch now or find a DVD/BlueRay copy
Browse a list of Aboriginal film suppliers and distributors
Other films by Michael Longbottom