Synopsis
Two brothers drive up at a drive-through and face a little crisis about dignity. As their car breaks down their relationship is put to a test - who is the stronger one, who can accept the other one as he is? Jon Bell manages to tell this story in a compellingly funny way.
Two Big Boys is not only the name of the burgers they order but also describes the two brothers as they grow into, well, two big boys. The story is based on a true event.
Director Jon Bell writes about his film: "In Two Big Boys the universe is out of whack. The youngest brother is least capable of making wise decisions and therefore least capable to lead, however he is the driver of the car that embodies both brothers.
"Nick (the oldest, wisest and most effective decision-maker) is the passenger. The film is about Nick's liberation from this - his birth almost. The car cannot be pushed by either of the boys single-handedly and, in fact, no longer serves a purpose for either of them.
"The car, ultimately, must be left behind as both of the boys walk off on foot. Separate bodies not tied to one another, anyway other than choice. Or it could be me trying my hand at comedy." [1]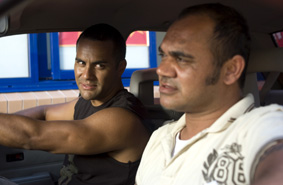 Details
Cast

David Page - Nick
Michael Tuahine - Scott

Release dates

May 5, 2007 - Australia (World premiere on the Message Sticks Indigenous Film Festival)

Video/DVD release date

2007

Rating

PG - Parental guidance

Distributor

Flickerfest

Soundtrack

David McCormack, Andrew Lancaster

Notes

Other films by Jon Bell: And Justice for One (short, 2003).
Watch now or find a DVD/BlueRay copy
Browse a list of Aboriginal film suppliers and distributors